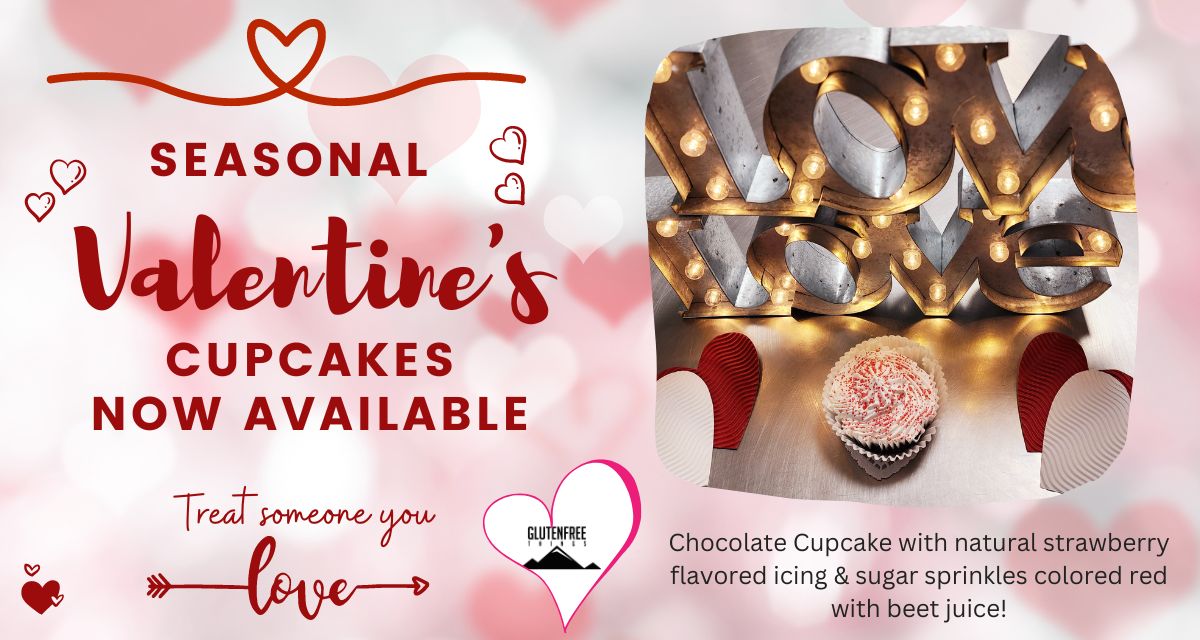 Gluten Free Things is once again rolling out our sweet treats in a seasonal holiday themed cupcake.
Our seasonal VALENTINES CUPCAKE is the perfect gift item during the February celebration of LOVE. 
Available online for pre-orders of six cupcakes or more or you can stop by our Arvada, Colorado based dedicated retail facility to pickup a few Valentines cupcakes and select our other popular gluten free vegan breads and treats. Or, order through DoorDash for convenient delivery for consumers in the Arvada/Denver metro area. 

Gluten Free Things' featured Valentines cupcake is a Chocolate Cupcake with Strawberry Frosting and red sugar sprinkles.   The natural strawberry flavoring and red sugar sprinkles (no synthetic dyes) are available through the month of February.
All products are free from: gluten, dairy, eggs, nuts, corn, soy and synthetic dyes.

If you'd like to pickup a couple of these fun and delicious treats, walk-in's are welcome and they'll be available in our refrigerator at the Gluten Free Things dedicated bakery in Arvada, CO.

For 6 or more cupcakes, we recommend pre-ordering online at  https://shop.glutenfreethings.com/desserts/iced-cupcakes/  Indicate in your order the date you would like to pickup and we'll have your order ready that date. 
When you pre-order, be sure to check your "shipping module" in checkout to verify "Free Customer Pickup" option.

If you have any questions about the Valentines Seasonal Cupcakes, please feel free to email us at [email protected] and we'll answer all your questions.

This seasonal Valentines Cupcake makes a perfect gift for your child's teacher or a co-worker, your family members, church groups or throw a Valentines gathering at home and serve these delicious treats.

It's the season of LOVE and we love our gluten free and vegan consumers!